Benevolent in Benny & Co.
Ontario, February 24, 2021
Rotisseries' Current Status
The health and safety of our customers and employees are our priority!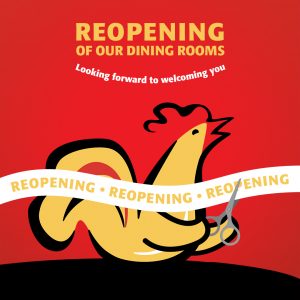 Services 100% operational





Payments with cards on online orders are highly recommended. We prioritize PayPass payments via debit cards at the counter and drive thru.
Thank you for your cooperation!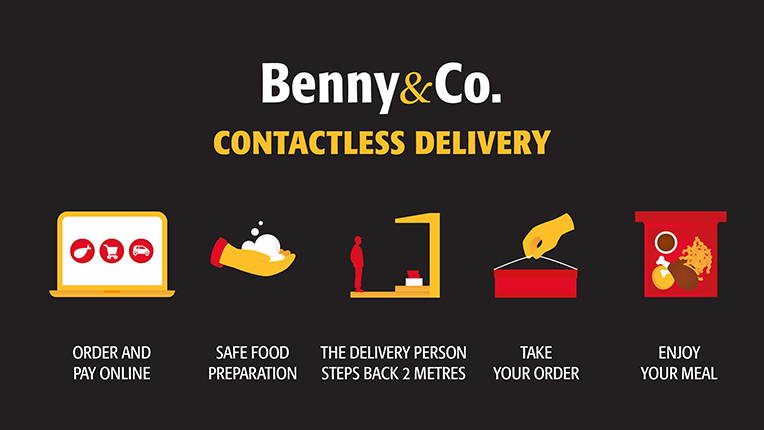 If an employee shows sign(s) or symptom (s) of Covid-19, they must not attend work. 
They must immediately notify their immediate supervisor who will advise them of the procedures to follow. The symptoms of Covid-19 are:
Fever (temperature is taken with a thermometer, not with the hand).
Cough (if you are a smoker and cough every morning, it does not count. We are referring to a dry cough that you did not have before).
Sudden loss of smell and taste without nasal congestion.
Frequent hand washing is mandatory. Employees must respect the handwashing technique recommended by the Ontario Public Health.    
Employees must have high standards of hygiene:
Sneezing in the elbow;
Avoid touching your face;
Government recommendations are followed to ensure safe behaviour at all times.

Social distancing must be respected by employees. We recognize that it may be impossible in some cases to stay 2 meters away, but employees must still understand the principle and respect it as often as possible.
Wearing a mask is manditory.
Procedure if an employee reports symptom of Covid-19:
Immediate withdrawal of employees for 14 days. Employees that have been in close contact with the positive employee may also be may also be sent home for 14 days.
The return of employees tested negative is possible before the end of these 14 days.
The employee must do an online self-assessment at the https://covid-19.ontario.ca/self-assessment/ and follow the recommendations that will be given.
Closure and disinfection of the restaurant and delivery cars. Disinfection is carried out by a company mandated by Benny & co.
Additional safeguards for employees and clients:
Increased sanitation/cleaning of employee workspaces.

Increased sanitation/cleaning of spaces for customers

Cleaning of payment machines between each customer.

Our cashiers are protected by Plexiglas.

We ask customers with symptoms not to show up at restaurants and to mandate someone for them or order online for contactless delivery.

For everyone's safety, we ask customers that only one member per family show up to pick up their order.

Customers must disinfect their hands when entering restaurants using the sanitizer bottle provided.

Customers must follow the signs posted in the restaurants, in order to respect the social distance of 2 meters.
For more information on COVID-19, visit:
For the Government of Ontario
https://www.publichealthontario.ca/en
For Public Health Canada:
https://www.canada.ca/en/public-health/services/diseases/2019-novel-coronavirus-infection.html

For any questions or comments, contact us without hesitation.
It is with great pleasure that we will exchange with you.

Proud to be certified « Aliments du Québec »
We are proud to serve you a menu that encourages Quebec producers. Over 70% of the food on our menu comes from Quebec. Ordering Benny & co., is buying local, favoring local producers and supporting Quebec entrepreneurship.
Solidarity in Benny & Co.
With our hearts on our wings

For us, doing good deeds, is a way of life. Benny & Co. is committed to providing 12,000 meals to health-care workers and local organizations working in areas where our 59 rotisseries are present. 
Through this act of encouragement, we and our employees wanted to show our gratitude and admiration for those who contribute to the well-being of our communities.
To also thank our employees for meeting these unprecedented challenges, several franchisees have extended employee wages during the critical period of the pandemic.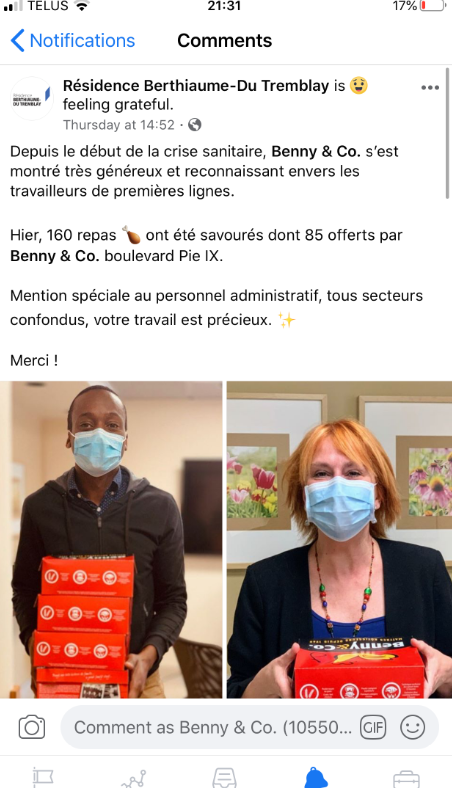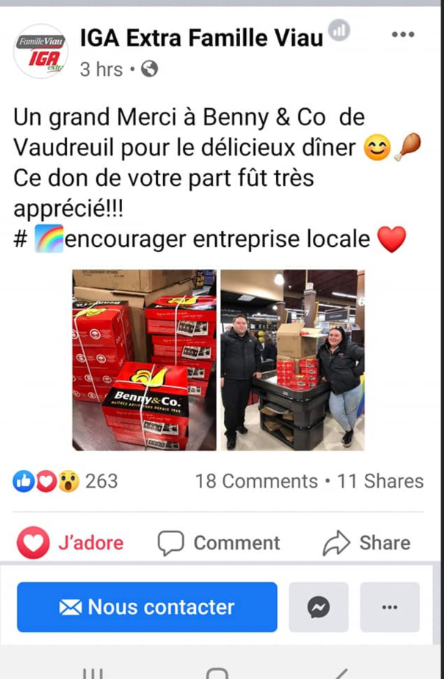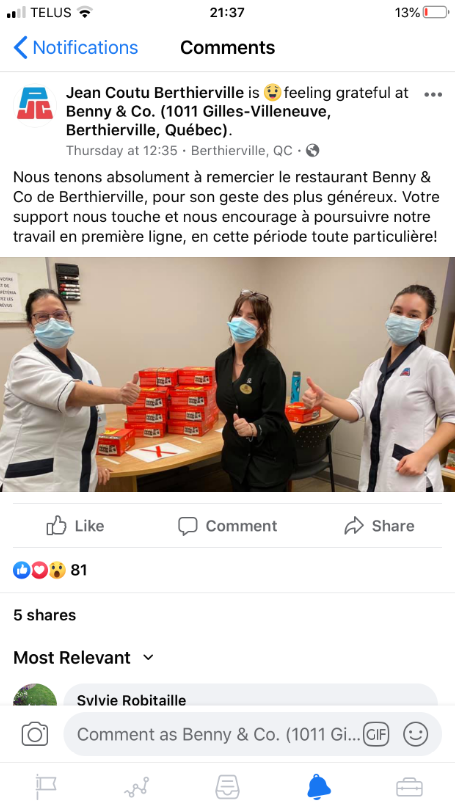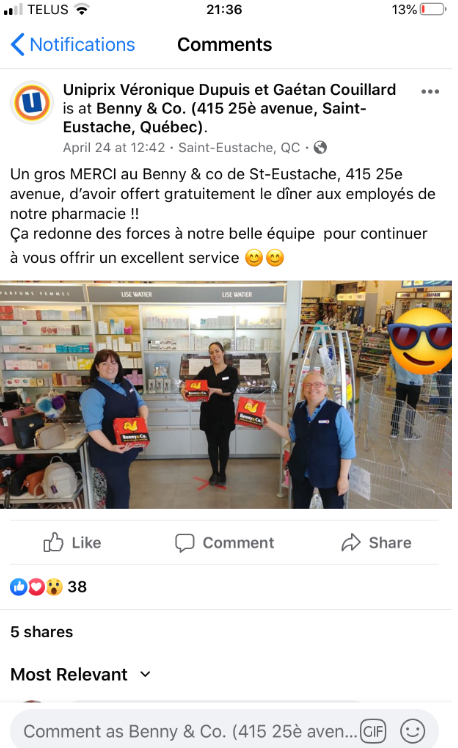 To encourage her work team, Laurence Leblanc of Benny & Co. Rawdon made an excellent parody of the song by Bleu Jeans Bleu – Coton ouaté.
The restaurants have been embellished by our employees to brighten your days!  🌈  Here are their masterpieces! Thank you to our loyal employees who are on the front line, for you, every day!