Restaurant in Espace Montmorency
After a long day at work or school, treat yourself at a Benny & Co. dining room with table service. When the weather is nice, you can also enjoy your meal on a beautiful sunny patio. Our master roasters' specialities are, of course, rotisserie chicken and tasty ribs. We also offer a healthy menu. To go with your meal, we serve a selection of wines and beers. For your little ones, we offer a special children's menu.
Located within the walls of the multifunctional Espace Montmorency development in Laval, our rotisserie offers all its occupants a full meal service for all occasions. In the heart of Laval's action, near Place Bell, Collège Montmorency, and Maison des Arts, whether you are passing by for work or are a resident, come and enjoy a delicious, juicy roasted chicken dish, carefully prepared just for you.

Business hours
Monday
11:00 – 21:00
Tuesday
11:00 – 21:00
Wednesday
11:00 – 21:00
Thursday
11:00 – 22:00
Friday
11:00 – 22:00
Saturday
11:00 – 22:00
Sunday
11:00 – 21:00
To reserve your table, click here!
HOLIDAY OPENING HOURS:
DECEMBER 24TH – 11 A.M TO 8 P.M
DECEMBER 25TH  – CLOSED
DECEMBER 31ST – 11 A.M TO 8 P.M
JANUARY 1ST – 11 A.M TO 8 P.M
Services
At your location

Beer And Wine

Take Out Counter

Dining Area

Children (Menu And Playroom)

Terrace

Dining Room With Table Service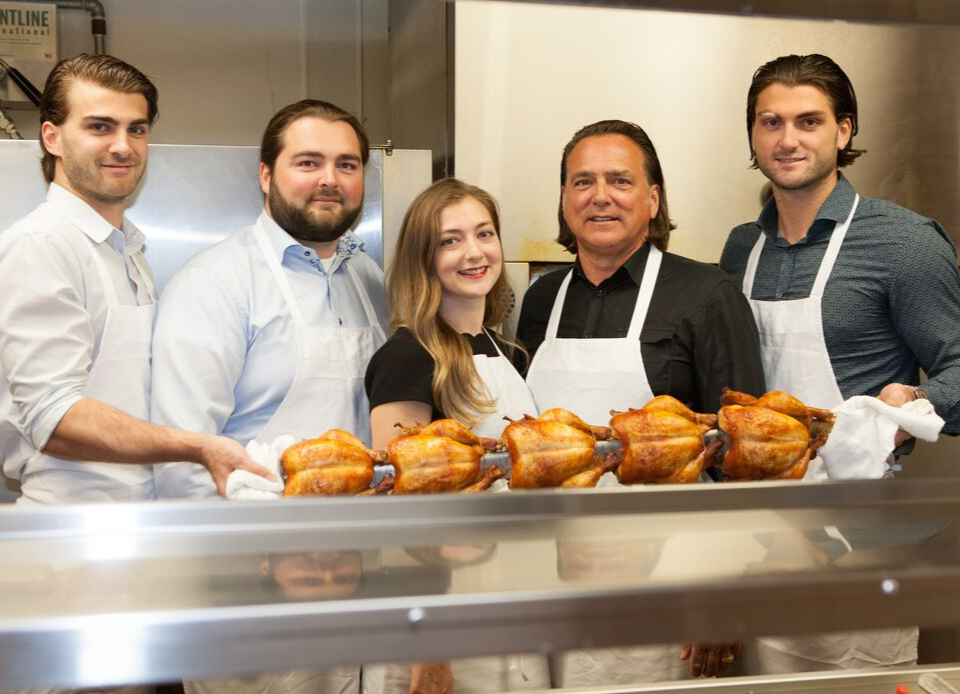 During the 1950s, the eight Benny brothers were pioneers in raising and selling chickens bred for cooking (called "broilers") in the Lanaudière region. Once they had fine-tuned their exclusive chicken roasting technique, they opened their first restaurant in Joliette. Throughout the 1960s and 1970s, the Benny brothers opened over twenty rotisserie restaurants in the major towns and cities of Québec, a testament to their unique expertise. In 2006, the Benny & Co. concept was introduced to satisfy contemporary consumers who care about eating well. From then on, true lovers of rotisserie chicken have been able to enjoy a meal in a warm family-friendly atmosphere with courteous and attentive service. Taking great pride in their family history, Benny & Co. is thrilled to share their expertise as you discover (or rediscover) their innovative concept.