Benny & Co. offers a modern and refined dining room with a bar area featuring a sound and lighting ambiance that will be adapted throughout the day.
A three-hour slow roasting process ensures our delicious rotisserie chicken is exceptionally tender. You'll savour tasty, succulent chicken just the way you like it, accompanied by only the freshest sides: Crisp salads, our decadent signature poutine, golden onion rings and more!
For a family dinner, meal with friends or lunch on the go, we will satisfy your hunger with a variety of meals in the dining room, for take out and delivery. Discover our famous menu which includes healthy options, ribs as well as a Kids' menu.
Located not far from the Jonquière Hospital, on the bustling Harvey boulevard and all its businesses, our rotisserie concocts various tender and juicy chicken dishes as well as all the other delicious meals that will satisfy the biggest hunger. Stop by on your way home from shopping, training or work to order a complete meal for your family
From the smallest cravings to the biggest appetites, our generous portions and juicy rotisserie chicken are sure to satisfy. With our quick delivery service, your order is prepared with care and arrives at your doorstep deliciously hot and fresh. We're thrilled to share our family tradition with you, one box at a time!

Services
At your location

Drive-Thru

Beer And Wine

Take Out Counter

Dining Area

Children (Menu And Playroom)

Terrace

Delivery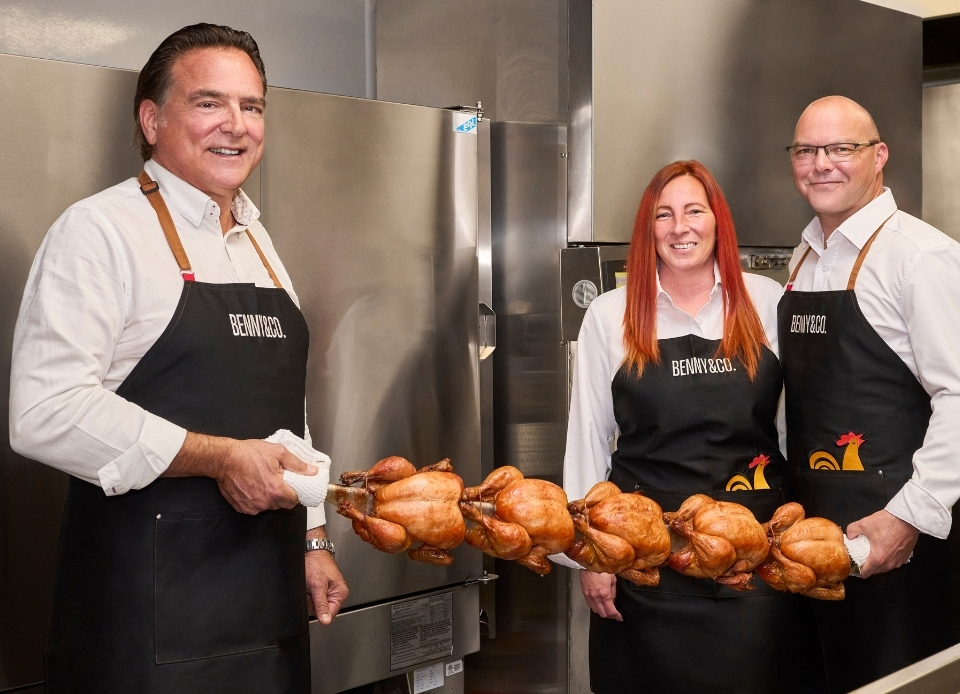 Bringing happiness to their customers by offering them the best roasted chicken: This is the mission of Michel Grenier and Mélanie Durocher, co-franchisees of the Chicoutimi rotisserie. Both have been employees of Benny&Co. for more than 20 years and wish to share their passion for excellence in rotisserie chicken with their new community of Saguenay.
A couple that shares a similar vision, Michel and Mélanie left Repentigny to open the new Benny&Co. branch in the region. Michel's desire to reconnect with his Saguenay roots and their shared passion for their profession led them to settle in Jonquière in 2021.
Michel began as a helper in the kitchen and worked his way up to territory supervisor, while Mélanie left her position as customer service coordinator to take over management of the new Saguenay branch. This restaurant offers its customers the chain's new concept, featuring a modern and sleek dining room and integrated bar area.
Michel and Mélanie's longstanding loyalty have made them members of the family! They wish to keep the tradition alive by offering excellent service to their customers and make them feel like they too, are part of the family.