Enjoy quick service dining in a warm and welcoming atmosphere! With our juicy, slow-roasted rotisserie chicken, we offer a casual, family-friendly restaurant experience. Choose from a wide selection of tasty sides to go with your meal, including our famous crispy fries!
If our menu goes above and beyond, so does the service you'll receive as soon as you walk through the door of our restaurant. Day after day, we deliver on our freshness guarantee and serve up exceptionally tender chicken raised without hormones. Check out our healthy menu and new additions for even more options!
Located just off the Autoroute du Souvenir (Autoroute 20), on Boulevard Cardinal Léger at the intersection of Chemin Duhamel and close to Terrasse-Vaudreuil, come savour a meal of tender rotisserie chicken, roasted the Benny & Co. way! You'll find plenty of stores nearby at the Faubourg de l'Île: Île Perrot Canadian Tire, Centre de Vision Lalonde. In the area: Pincourt–Terrasse-Vaudreuil station
Check out our entire extensive menu, including new additions and lighter options. With our quick delivery service, you enjoy generous portions, fresh and tasty sides and our famous rotisserie chicken. Your order is prepared with care and then delivered to your doorstep in a snap, deliciously hot and fresh.
If Benny & Co. doesn't deliver to your home, try: Uber Eats

Services
At your location

Drive-Thru

Beer And Wine

Take Out Counter

Dining Area

Children (Menu And Playroom)

Delivery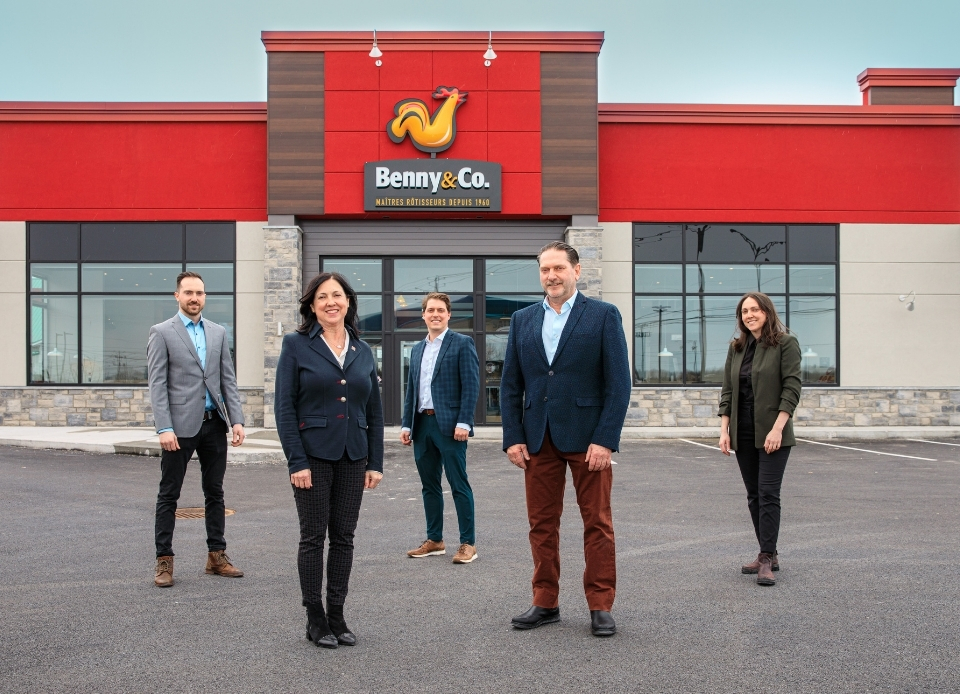 Offering the best chicken and meeting the high expectations of their clients: such is the mission of Lucie Benny and Michel Bonin, owners of the rotisserie in Vaudreuil, Pincourt and Salaberry-de-Valleyfield. They have both grown up in the restaurant business and are profoundly passionate about this industry.
They opened their first restaurant in Vaudreuil, in 2013; their restaurants in Pincourt and Salaberry-de-Valleyfield followed in 2017 and 2021, respectively. Not only does this demonstrate the exponential growth of the group, but this allows the duo to expand their activities and continue to ensure the utmost quality of customer service across additional locations.
Lucie and Michel are proud to count on the support of their three children, Véronique, Louis-Éric and Charles-Étienne, who are very involved in the opening and operation of the family's restaurants. They wish to pass on the values of excellence and quality inherent to Benny&Co. to their children, but also to make their clients feel that they too are part of the family.