Rotisserie in Terrebonne (La Plaine)
Benny & Co. offers a modern and refined dining room with a bar area featuring a sound and lighting ambiance that will be adapted throughout the day.
A three-hour slow roasting process ensures our delicious rotisserie chicken is exceptionally tender. You'll savour tasty, succulent chicken just the way you like it, accompanied by only the freshest sides: Crisp salads, our decadent signature poutine, golden onion rings and more!
For a family dinner, meal with friends or lunch on the go, we will satisfy your hunger with a variety of meals in the dining room, for take out and delivery. Discover our famous menu which includes healthy options, ribs as well as a Kids' menu.
Located on Laurier Boulevard, our rotisserie awaits you with its wonderful roasted chicken and its tasty sauce. Just passing by? You have some shopping to do or you're picking up the kids from school? Take the opportunity to sit down at a table and enjoy your meal in good company. We are waiting for you!
Craving tender, juicy rotisserie chicken and hearty sides, delivered right to your doorstep? Benny & Co. offers a quick delivery service so you can savour your meal while it's hot and fresh! Order from our extensive online menu and enjoy a meal in a snap today!

Business hours
Monday
11:00 – 21:00
Tuesday
11:00 – 21:00
Wednesday
11:00 – 21:00
Thursday
11:00 – 21:00
Friday
11:00 – 21:00
Saturday
11:00 – 21:00
Sunday
11:00 – 21:00
HOLIDAY OPENING HOURS:
DECEMBER 24TH – 11 A.M TO 8 P.M
DECEMBER 25TH  – CLOSED
DECEMBER 31ST – 11 A.M TO 8 P.M
JANUARY 1ST – 11 A.M TO 8 P.M
Services
At your location

Drive-Thru

Beer And Wine

Take Out Counter

Dining Area

Terrace

Delivery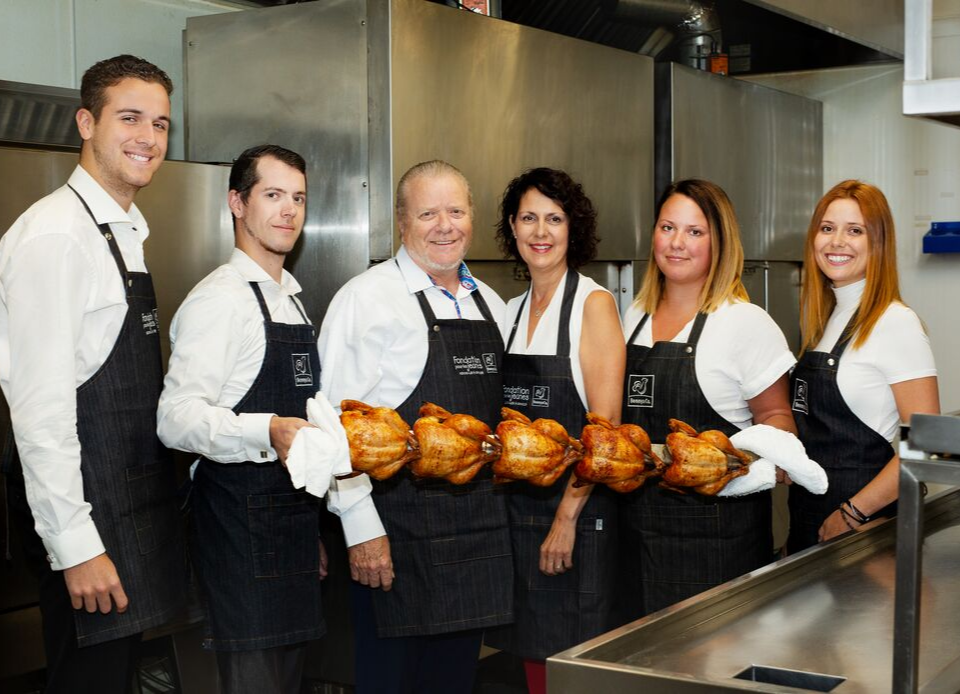 Originally from Anjou, Maryse Benny has been involved in the restaurant business since her youth. She remembers helping her father, Jean-Marc Benny, at lunchtime when she was in school. He was one of eight brothers who co-founded the company in 1960. Working for the family business was Maryse's first student job. She has held almost every position: cook, cashier, manager and accounting clerk. This allowed her to acquire a thorough knowledge of the company's operations. In 1987, she gained her first experience in management at the family rotisserie in Repentigny.
Maryse Benny is now the owner of several rotisseries on Montreal's North Shore. At the openings of her restaurants, she welcomes each member of the community who stops by as if she were welcoming them into her own home. Before opening the Terrebonne location in La Plaine in September 2022, Maryse already owned rotisseries in Repentigny (1983 and 2011), Pointe-aux-Trembles (1987), L'Assomption (2019) and Mascouche (2020). Now, more than 50 delivery cars serve these regions to meet the growing customer demand.
Today, Maryse is the mother of four children. Two of them, Tanya and Samuel, are following her footsteps in the family business. Tanya gained her first management experience at the rotisserie in Pointe-aux-Trembles and then took over management of the Repentigny location in 2015. Meanwhile, Samuel rose through the ranks—from kitchen helper to business partner—while completing his studies. Maryse is co-owner of the Terrebonne location (La Plaine), alongside Tanya and Samuel: A beautiful family story just like we love them at Benny&Co.
Maryse and her team are eagerly waiting for you to discover, or rediscover, the relaxed atmosphere, and unique flavours of Quebec's Benny&Co. family rotisseries.